After
a friend recently visited Boscastle in Cornwall and sent me a photo of the Witchcraft museum there I thought it might be interesting to write a blog about the various places you can learn more about our 15th/16th/17th century witches.
Witchcraft
was not a punishable offence until the 16th century. Instead witches were respected for their ability to heal and knowledge of the land and calendar. In 1563 the Witchcraft Act was passed introducing the death penalty in England and Scotland. In July 1566 Agnes Waterhouse was found guilty of 'bewitching' in England's first major trial and hung for her crime. Over the next 150 years tens of thousands were condemned to death. In 1727, in Scotland, Janet Horne was the last woman to burn for witchcraft, but amazingly it wasn't until 1944 that the last conviction for witchcraft was passed, to a Helen Duncan!
This
is the Witchcraft Museum in Boscastle:
I
really fancy visiting next time I'm in Cornwall. It claims to have the worlds largest collection of witchcraft related artefacts:
Now

I presume these are all witchcraft related books but wow look at that wall... A wall full of book shelves that fit around my door... My dream!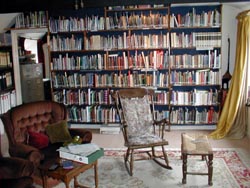 Nearer
to home is Lancashire, another place famous for witchcraft and made notorious for its Witchcraft trials. This is the home of the Pendle Witches, ten of whom were tried and hanged in Lancaster in 1612 and where you can visit the home of the notorious witch hunter Thomas Covell:
Amazingly
it was only at the end of last year that an intact cottage of one of the witches was unearthed, near Pendle Hill. Archeologists found the building under a grass mound, complete with a cat skeleton bricked into the wall!
There
are many more interesting stories and facts about ancient Witchcraft and the trials which came about. The North Berwick witchtrials are one to look up, and there are many more...