I have decided that as my editing and proof reading has delayed the sending out of review copies I will also delay the main blog tour until September, giving bloggers plenty of time to read and review. In the mean time Flying With Fire will be published on July 17th and to celebrate it I shall run a mini tour and giveaway during the publication week consisting mainly of guest posts, teasers from the book and a couple of reviews from my Beta readers.
Here is the poster and links to bloggers taking part: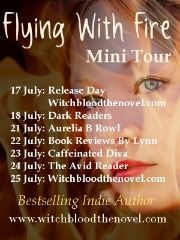 17th: Pop by the blog for a chance to enter a competition to win the FWF paperback!
18th:
Dark Readers
: Guest Post
21st:
Aurelia B Rowl:
Guest Post
22nd:
Book Reviews By Lynn
: Guest Post
23rd:
Caffeinated Diva
: Review of FWF
24th:
The Avid Reader
: Guest Post
25th: Pop back to this blog to read another review and more...
**Also if you are new to the WitchBlood world I have reduced Book 1 in the series, 'Witchblood'. It is going FREE for the summer!! Here is the US link, but if you search for Witchblood on any platform it should show up FREE. http://www.amazon.com/Witchblood-Book-1-Emma-Mills-ebook/dp/B006VD5QLI/ref=sr_1_1?ie=UTF8&qid=1405542883&sr=8-1&keywords=witchblood